App Review for FoneGeek iPhone Password Unlocker
It is not uncommon to get locked out of your iPhone, iPad or iPod Touch. In fact, it can happen to anyone and when it does, it can be hard to figure out how to get back into your device. Fortunately, FoneGeek iPhone Password Unlocker can easily bypass the passcode.
This third-party tool can also be useful if you forgot your Apple ID, you purchased a locked second-hand device or you've entered the wrong passcode too many times and the device is now locked.
It is particularly good want to remove the Apple ID and iCloud Activation lock without the password, allowing you to sign in with another Apple Account.
Why Use FoneGeek iPhone Passcode Unlocker
FoneGeek iPhone Password Unlocker provides a simple way to unlock any iOS device and gives you access to the device in a matter of minutes. The following are some of the features that make this possible;
It can easily bypass iCloud Activation Lock without the password.
Allows you to delete the Apple ID associated with the iPhone, iPad, or iPod without the password, making it impossible for someone else to track or erase the device using the old ID.
It easily unlocks all types of passcodes including four-digit or six-digit passcode, Touch ID, or Face ID.
It can also be used to turn off Find My without the password.
Bypass iCloud Activation Lock
FoneGeek iPhone Password Unlocker can be very useful to you if you purchase a second-hand iOS device that is still connected to the previous owner's Apple ID. Without the Apple ID or password, this device can prove useless to you since you will not be able to access any of the features and data on the device.
By deleting the previous owner's Apple ID, FoneGeek iPhone Password Unlocker gives you access to the device. It will do so without needing the password associated with the account and works on all iPhone models from iPhone 5s to iPhone 13 Pro, running iOS 15 and above, whether Find My is enabled or not.
Once the iCloud account and Apple ID have been removed, you can create a new Apple ID or use an existing one.
This tool will not require you to provide any details about the previous owner's account and since it doesn't require International Mobile Equipment Identity (IMEI) code, you can easily use it to delete the iCloud account yourself without needing technical assistance.
Here's a basic step-by-step guide to help you bypass iCloud Activation Lock using FoneGeek iPhone Password Unlocker:
Step 1: Install FoneGeek iPhone Password Unlocker onto your computer and open it. Choose "Unlock Apple ID" in the main window.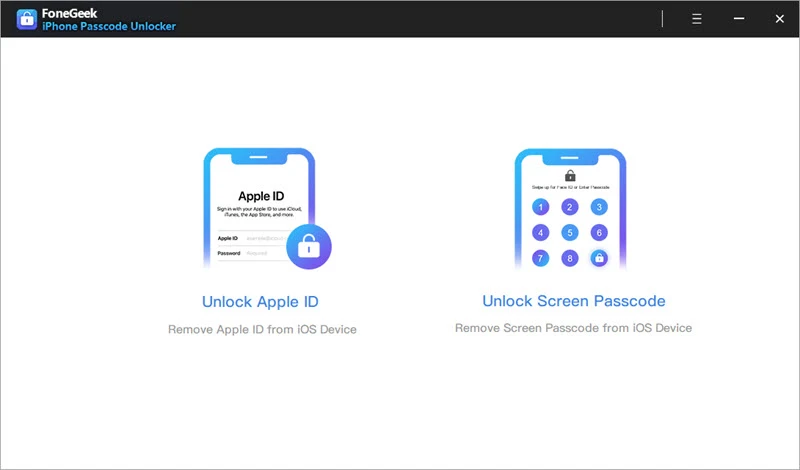 Step 2: Use a USB cable to connect the iOS device you want to unlock. Once the program detects the connected device,  and then click "Start to Unlock."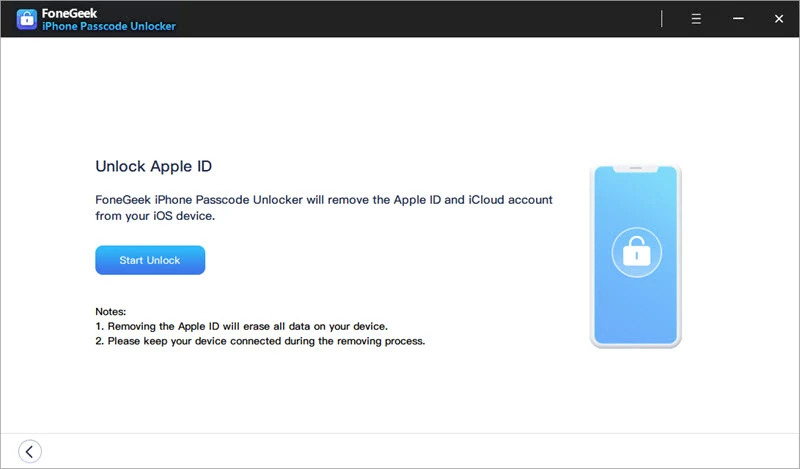 Step 3: The next step is jailbreaking the device. FoneGeek iPhone Password Unlocker will download the jailbreaking tool needed and you just need to follow the instructions to complete the process.
Step 4: Then just click "Unlock" to continue and in a few minutes iCloud Activation Lock will be removed. You can then continue setting up the device.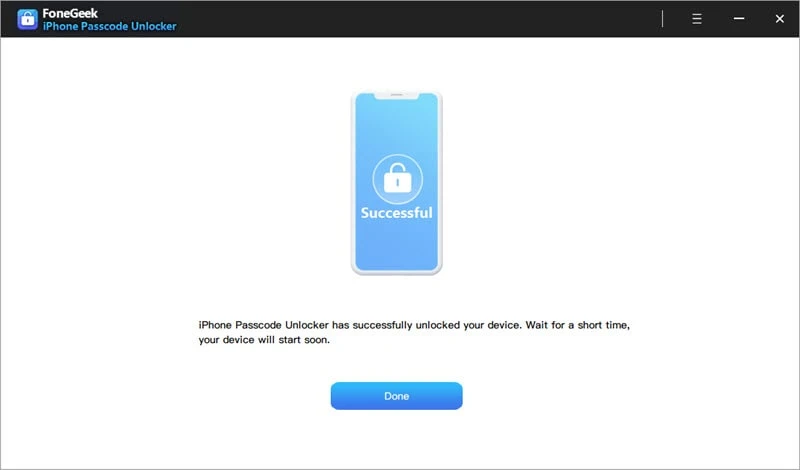 This activation guide will share with you other password-removal guidelines that may be useful.
Pricing
For 5 devices and one PC – Lifetime $45.95, Yearly $33.95, Monthly $23.95